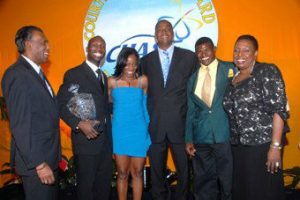 Dr. Neil Gardner, a chiropractic neurologist, is the 2011 recipient of the Courtney Walsh Award for Excellence. He was honoured at the annual Courtney Walsh Award ceremony at the Jamaica Pegasus Hotel on October 19.Dr. Gardner, a former track and field athlete, is noted for his achievement at the High School Boys Athletic Championship where he was the Victor Ludorum champion athlete three years in a row. Between 1991-1993, he was adjudged the event's 1990s' athlete of the decade. Dr. Gardner also excelled at the CARIFTA Games competing in high jump, triple jump and the 110 metres hurdles, winning five bronze, three silver and one gold from 1989 – 1993.Dr. Neil Gardner is the 1996 NCAA 400 metres hurdles champion and 1997 NCAA 55 metres hurdles indoor champion – the only athlete to date to have both titles.
The other nominees considered for the award were: veteran netballer Nadine Bryan; ICC Women's Cricketer of the Year 2011, Stafanie Taylor and Special Olympian Nigel Davis.
Ambassador Courtney Walsh, in whose honour the award is given, encouraged the students of Wolmer's Boys, Convent of Mercy (Alpha), Vere Technical, Holmwood and Jamaica College who were in attendance to "play hard, enjoy what you do, play in the spirit of the game and remember there is life after the game."
The Award, which was inaugurated in 2005, is administered by the CHASE Fund, and recognises outstanding achievement in a sport; representation at the national level, notable community service and a high level of integrity, national pride, dedication, decorum, humility and discipline both on and off the field.
Past winners of the Award include cricketer James 'Jimmy' Adams in 2005; Olympic Gold Medalist and Hurdler Deon Hemmings-McCatty in 2006; Netball Champion Elaine Davis in 2007, Cricketer Nehemiah Perry in 2008; Brigitte Foster-Hylton – Hurdler and 2009 IAAF World Champion (2009); and most recently, Aleen Bailey, 2004 Olympic Gold Medallist.