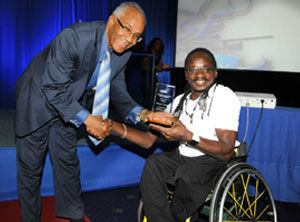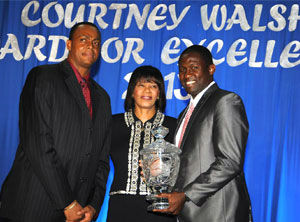 West Indies Players Association (WIPA) president Wavell Hinds, is the 2013 recipient of the Courtney Walsh Award for Excellence.  He was honoured at the annual Courtney Walsh Award ceremony at the Jamaica Pegasus Hotel on October 23.
Former West Indies cricketer, Wavell Hinds, has played on and captained numerous Jamaica national cricket teams, from age-group level upwards to the senior outfit, contributing to many title successes.
Off the pitch, Hinds has worked his way through the ranks to become president of the regional players' representative body, WIPA.   He is also chairman of selectors for the Jamaica Cricket Association (JCA) Under-19 team.
The other nominees considered for the award were: veteran netballer Nadine Bryan; Olympian Michael Frater and Paralympian Alphanso Cunningham.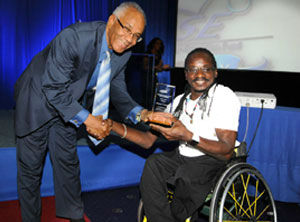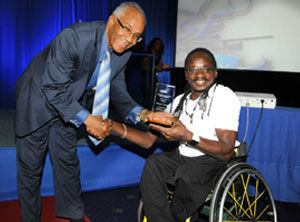 Ambassador Courtney Walsh, in whose honour the award is given, acknowledged the distinguished athletes like Arthur Wint and Herb McKinley who he said went before him and laid the foundation.  "We should keep reminding our young athletes like those who are here with us tonight of these stalwarts who were the ones that paved the way for us", he said.
The Award, which was inaugurated in 2005, is administered by the CHASE Fund, and recognises outstanding achievement in a sport; representation at the national level, notable community service and a high level of integrity, national pride, dedication, decorum, humility and discipline both on and off the field.
Past winners of the Award include cricketer James 'Jimmy' Adams in 2005; Olympic Gold Medalist and Hurdler Deon Hemmings-McCatty in 2006; netball champion Elaine Davis in 2007, cricketer Nehemiah Perry in 2008; Brigitte Foster-Hylton – hurdler and 2009 IAAF World Champion (2009); Aleen Bailey, 2004 Olympic Gold medallist; hurdler, Dr. Neil Gardner and Olympian, Veronica Campbell Brown.