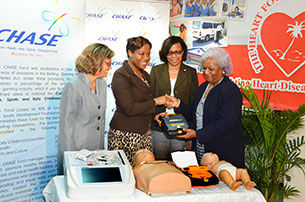 In recognition of CPR Week being celebrated by the Heart Foundation of Jamaica (HFJ), members of staff of the CHASE Fund were this morning given a first-hand demonstration of how to administer cardiac pulmonary resuscitation (CPR), in the event someone near to them collapses, stops breathing or stops breathing normally.
The occasion was the official handing-over by CHASE of equipment valued at just over $US17,104.76 to The Heart Foundation of Jamaica (HFJ) life-saving screening services and emergency cardiac training programme on Monday, June 16.  The donation included adult and infant mannequins and automated external defibrillators used in the HFJ CPR training in communities; and ECG machines as a boost to their island wide screening programmes.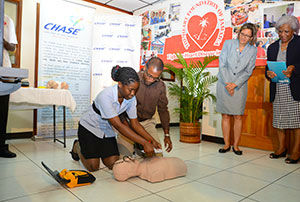 The equipment was handed over by Project Manager at the CHASE Fund, Mrs. Paulette Mitchell who made note of the key role her organization plays in promoting health care in Jamaica by allocating twenty percent of their budget to the health sector. Other areas funded by the CHASE Funds are culture, arts and early childhood education. Mrs. Mitchell reiterated the need for individuals to be trained in CPR, as the life saved may very well be that of someone you know or love, and charged her staff to encourage persons in their various communities to get trained.
Executive director of the HFJ Mrs. Deborah Chen expressed her gratitude to the organization for their partnership over the years.  She lauded their consistent support which has improved the capabilities of the HFJ to save lives through the early detection and treatment of potentially disabling and fatal conditions. Since 2007, CHASE has contributed some J$21 million dollars to the Heart Foundation of Jamaica and was also instrumental in the purchase of the Foundation's current location at 28 Beechwood Avenue.
Cardiovascular disease remains the leading cause of morbidity and mortality in Jamaica, incapacitating thousands of people – some of them for life – and hampering national productivity. The prevention of this disease and promotion of heart health care are the main objectives of the HFJ which, for more than 43 years, has been offering screening services islandwide at significantly reduced rates.
The HFJ was established in 1971 by the Lions Club of Kingston in an effort to minimize the incidence of death from heart disease in Jamaica.  The Foundation is a registered, non-profit organization supported by voluntary contributions, its own fundraising efforts and heavily subsidized user fees.
CPR Week is being celebrated by the HFJ, June 15 to 20 under the theme "Staying Alive".