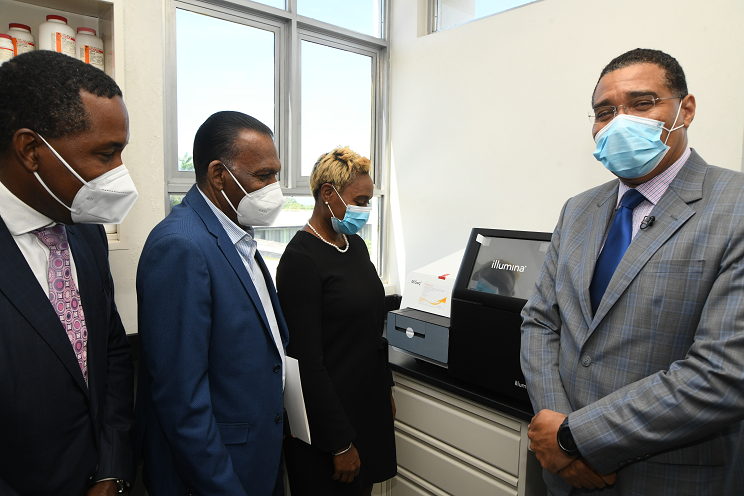 Jamaica's coronavirus testing capability has been boosted with the acquisition of a Genome Sequencing machine.  The machine, which was handed over to the National Influenza Centre (NIC) at the University Hospital of the West Indies (UHWI) on October 22, 2021, will allow the NIC to test for variant strains of the coronavirus without having to send samples to locations overseas.  The CHASE Fund provided $40M for the purchase of the machine.
Speaking at the handing over ceremony, Prime Minister Andrew Holness, noted the advantages of being able to test for variants locally.  "As the COVID-19 pandemic continues to rage across the world, we here in Jamaica have to maintain vigilance, not only in how we operate within the protocols and measures outlined for safety, but we will have to continue to make adjustments in our approach to vaccination, dissemination of information," he said.  Prime Minister Holness encouraged stakeholders with credible information regarding COVID-19 to be responsible in disseminating information so that Jamaicans can be accurately informed.
Consultant Microbiologist, Alison Nicholson, shared that the machine will continue to be useful long after the pandemic is over.
Meanwhile, C.E.O for CHASE Fund, Billy Haven said the acquisition of the Genome Sequencer was a follow-up to two other machines that had been provided to the NIC in 2020.
In the past year, interventions by CHASE have had a huge impact on the fight against the effects of the coronavirus locally. Of note was funding for critical equipment valued at $34M for the NIC and a partnership with the National Education Trust (NET), to provide personal protective equipment (PPE) as well as sanitization equipment and supplies for 100 primary schools across the country.