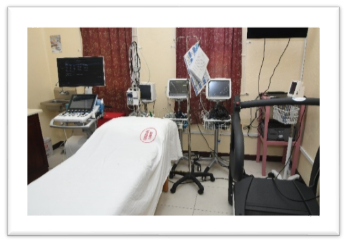 With the generous support of the CHASE Fund, the Kingston Public Hospital (KPH) is now able to provide various types of non-invasive echocardiography testing for cardiac patients at its new Cardiology Unit. The Unit was officially opened on Wednesday, Novemmber 20, 2019.
Dr. the Hon. Christopher Tufton, Minister of Health and Wellness, said that the $64 million investment made by CHASE increases the accessibility and standard of care to cardiac patients by increasing echocardiography services from 10 patients per week to 15 per day with the provision of additional services.
The establishment of the Unit is critical to KPH operations, as more than 25% of Jamaica's adult population have at least one major risk factor of Cardiovascular Disease (CVD). This condition is now the leading cause of deaths and disability in Jamaica.
Additional services such as 24-48 hour ECH monitoring and stress echocardiography are now provided.  On average, 160 echocardiogram requests are received at the KPH monthly.