The CHASE Fund has signed construction and renovation contracts amounting to $103 million to build and upgrade five basic and infant schools in the parishes of Hanover, Westmoreland, St. Elizabeth, Manchester and Kingston. The contract signing was held in the Alexander Bustamante Suite at the Jamaica Pegasus Hotel in Kingston this morning.
The Black River Primary and Infant School in St. Elizabeth, Mount Eagles Early Childhood Institution in Westmoreland and the Precious Plain Basic School in Manchester will see extensive upgrading of their existing facilities.
Two new schools will be constructed. The Little Einsteins Learning Centre in the Seaview Gardens Phase I community in Kingston, will be built on land donated by the Ministry of Transport, Works and Housing and the St. Simons Basic School in Hanover will be constructed on the St. Simons Primary school property.
The St. Simons Basic School is part of the Ministry of Education's rationalization programme to transition basic schools to infant schools or infant departments.
Speaking at the signing, Education Minister Ronald Thwaites, indicated that to date 227 basic schools had been rationalized into infant departments. "We are amalgamating many of the basic schools into infant departments where the government can offer the services of trained teachers and bolster the nutrition of basic school children," he said.   "Our target for the 2015/2016 financial year is for the rationalization of an additional 250 basic schools into infant departments," he added.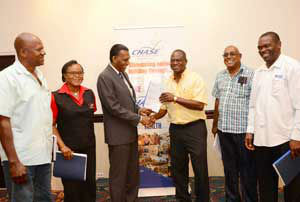 Chief Executive Officer of CHASE, Billy Heaven, said the construction and renovation of the schools were just a part of the company's larger focus on early childhood education.  "The Fund has built 53 basic schools and resource centres; and upgraded and equipped 511, many of them located in remote rural communities, making it easier for children in rural communities to access quality early childhood education," he said.
All five schools when complete will be fenced and provided with fully equipped kitchens, furniture and play equipment.
"I want to urge the contractors to have the works completed on time and within budget and to ensure, where possible, that the residents of each district are employed on the site," he added.
Construction works will be undertaken by RICAM Construction, Otiga Engineering, N.R. Diaram Construction, Bajad Limited and C.P. Specialists Limited.
Since its inception twelve years ago, the CHASE Fund has invested J$3.2 billion in the early childhood sector to facilitate infrastructure development, capacity building for early childhood educators; curriculum design and nutrition interventions; and the acquisition of vital educational aides and resource materials.