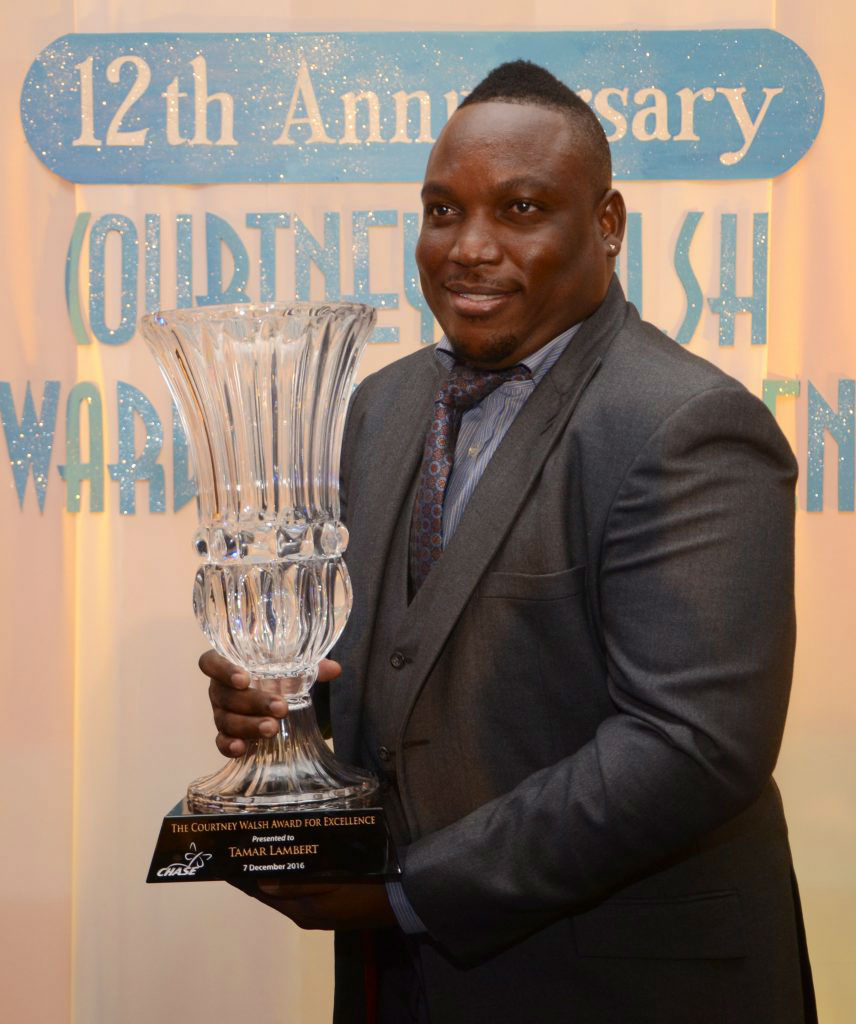 Former cricketer Tamar Lambert was named the 2016 recipient of the Courtney Walsh Award for Excellence at an award ceremony on December 7th at the Terra Nova Hotel.  The Courtney Walsh Award Selection Committee chose Lambert from a short list which included female cricketer, Stefanie Taylor and retired football goalkeeper, Warren Barrett.
Lambert represented Jamaica at every level of the game from the time he started playing at Spanish Town Primary School, and to this day remains Jamaica's most successful cricket captain ever.
He expanded his prowess as a leader from primary level to Jonathan Grant High School, which is situated in the heart of his birthplace, Spanish Town, where he marshalled their troops through one of their most glittering periods on the vast cricketing landscape.
With Lambert at the helm, Jonathan Grant High won the Inter-Secondary Schools Sports Association (ISSA) Under-14 and Under-16 titles corporate area titles.
Under his stewardship, the school also came very close to winning the premier corporate area title, the Sunlight Cup. However, they lost in the final not once, not twice, but on three occasions. Their nemesis on each occasion, Kingston College. An all-rounder who bats right-hander and bowls right-arm off-spin, Lambert's greatest successes though were yet to come, as it is while leading the Jamaica senior cricket team that he made his biggest mark.
From 2008-2012, he led Jamaica to an unprecedented five consecutive triumphs in the regional four-day championship. To top it off, the last victory represented a marvelous milestone for Jamaica not only from the historical standpoint, but also that it occurred in the year the country celebrated its 50th anniversary.
All told, Lambert captained Jamaica to six four-day regional championships.
The first one under his direction came in 2005, exactly one year after he was promoted as captain, at age 23, of the senior cricket team. Lambert also led Jamaica to two regional Super50 titles, in 2007 and 2011, plus two play-off shields.
In a newspaper interview published after Jamaica had secured its fifth consecutive title, the soft-spoken Lambert aptly summed up his leadership qualities. "I have been captain all my life, so whatever team I play on, I normally captain it," he said. "People just see the natural leadership skills in me and I am a student of the game, so they always think that I am the best person to lead."