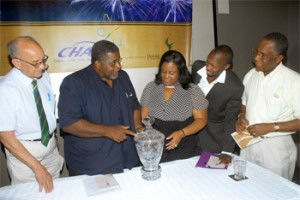 Minister with responsibility for Sport, the Hon. Natalie Neita-Headley, has promisedto focus on strengthening the institutions that will make it possible for Jamaica to participate in more sporting disciplinesin the future. "I want to see us fielding a Beach Volleyball team, persons representing Jamaica in Table Tennis, Badminton, Cycling, Skeet, Boxing and other areas in addition to the disciplines we participate intraditionally." she said. Minister Neita-Headley was speaking at the launch of nominations for the Courtney Walsh Award for Excellence on August 16 at theCuddy'z Sports Bar in New Kingston.
Dr. Aggrey Irons, Chairman of the Courtney Walsh Award for Excellence Selection Committee outlined the criteria for the Award noting that great emphasis is placed on character – humility, integrity, discipline and decorum – qualities that should stand out in proposed candidates. Also taken into consideration is the nominee's community service which adds an invaluable layer to his/her resume.
The Award, which is administered by the CHASE Fund, is the brainchild of former Prime Minister, P.J. Patterson and seeks to formally recognise the achievements of a sports person who displays exemplary qualities while excelling in the field of sports.
Dr. Neil Gardner, the 2011 recipient of the Award, said that he was honoured to have received the award last year and encouraged members of the public and sport associations to participate by nominating candidates.
Other past awardees are:  Cricketer James "Jimmy" Adams; Deon Hemmings-McCatty, Olympic Gold Medalist; Elaine Davis, Netball Champion; Nehemiah Perry, Cricketer; Brigitte Foster-Hylton, Hurdler and 2009 IAAF World Champion; and AleenBailey, 2004 Olympic Gold Medallist.
The Award carries a cash prize of J$500,000 and an attractive crystal trophy.  Nomination forms are available at the Jamaica Cricket Association; the Sports Development Foundation, the Jamaica Olympic Association, ISSA and the Institute of Sports or on the CHASE website: www.chase.org.jm. All forms must be submitted to the CHASE office at 52-60 Grenada Crescent, Kingston 5 or emailed to the CHASE office – chase12@cwjamaica.com.  Nominations close on September 29.