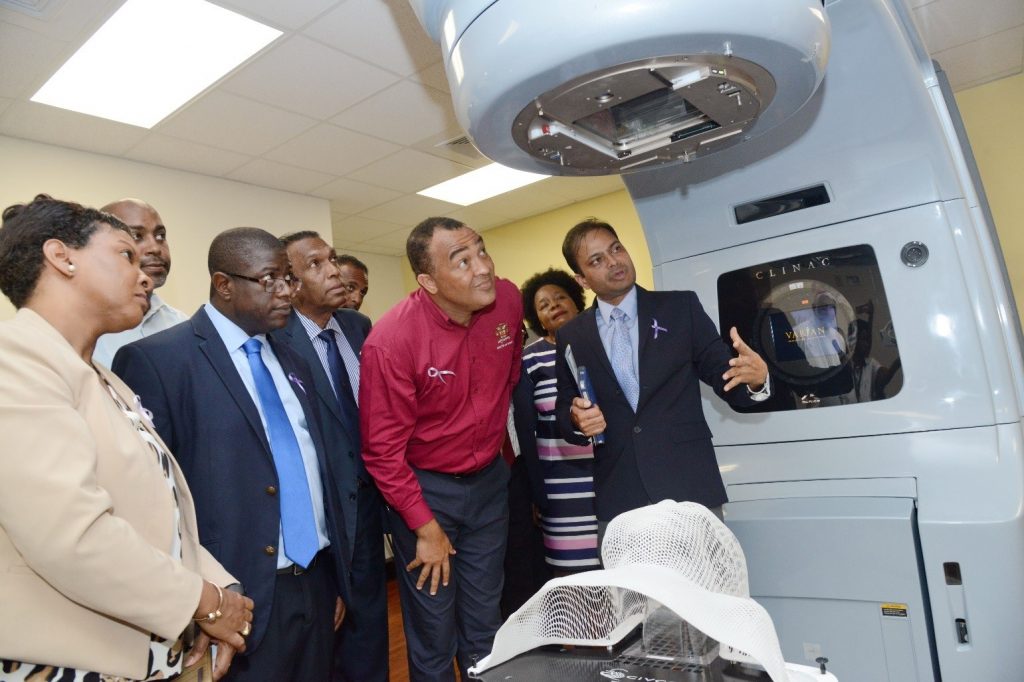 Minister of Health, Dr. the Hon. Christopher Tufton (3rd right) admires the new linear accelerator machine as Head Radiation Oncologist, Dr. Praveen Sharma explains its operation.
Listening in were (l to r) Merle Donaldson, CHASE Director and Chair of the CHASE Health Committee, Member of Parliament for S.E. St. Andrew, Julian Robinson; NHF CEO, Everton Anderson; CHASE CEO, Billy Heaven; TEF Chairman, Dr. Carey Wallace (partially hidden); and Maureen Golding, Regional Director, SERHA.
The National Cancer Treatment Centre was opened on November 26, 2018 at the St. Joseph's Hospital in Kingston and houses the linear accelerator which administers radiation therapy and is designed to treat lung, breast, prostate, head, neck, skin and other types of cancer with speed and accuracy.  The Centre at St. Joseph's Hospital and another established at the Cornwall Regional Hospital in 2017, cost US$16- million, of which the NHF contributed US$10-million, CHASE Fund US$5-million and TEF US$1-million.