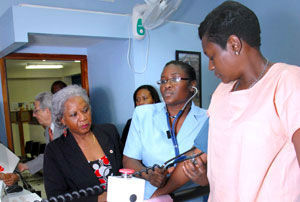 The Heart Foundation of Jamaica (HFJ) life-saving screening services have received another boost from the CHASE Fund which has facilitated the purchase of a Stress Treadmill and three 24-hour Holter Monitors at a cost of just under J$5.4 million. The donation was officially handed over on Monday afternoon by the Project Manager of the CHASE Fund, Mrs. Paulette Mitchell at the Foundation's Beechwood Avenue address.
Testing on the Stress Treadmill is one of the follow-up procedures that may be undertaken, if the routine electrocardiogram (ECG) presents an abnormal result.  Executive Director of The HFJ Mrs. Deborah Chen explained that this test puts the heart under stress due to the exercise and shows up irregularities that may not manifest themselves when the heart is at rest.
Cardiovascular disease remains the leading cause of morbidity and mortality in Jamaica, incapacitating thousands of people – some of them for life – and hampering national productivity.
According to the Jamaica Health and Lifestyle Survey of 2007-8, 25% of Jamaicans have hypertension and almost half of this number, or some 25,000 persons have had a stroke. Approximately 12,000 persons have suffered a heart attack; 65% of women and 38% of men are overweight, while 86% of persons with high cholesterol are unaware of their disease status.
The prevention of cardiovascular disease and promotion of Heart Health Care are the main objectives of the HFJ which, for more than 42 years, has been offering screening services islandwide at significantly reduced rates. These screening services include the electrocardiogram, blood pressure, cholesterol, blood sugar and  body mass index. According to Mrs. Chen, "Where these specialized tests are available at select public hospitals, due to the demand, the waiting list  can be long ; and this delay may adversely affect their health with  many persons not being able to afford the higher fees at private institutions. The Heart Foundation offers ready access to these services at subsidized cost."
The 24-hour Holter Monitor is another critical element in the range of tests conducted by the Foundation. While the ECG only records the electrical activity of the heart at the time of the test, the portable Holter Monitor, which is strapped to the patient and monitors the heart rate over a specified period, will register any abnormal rhythm that occurs during that time period.
Dr. Marilyn Lawrence Wright, Cardiologist at the HFJ thanked the CHASE Fund. In expressing her thanks to CHASE she noted that since 2007, CHASE has contributed some J$19 million dollars to the Heart Foundation of Jamaica and was also instrumental in the purchase of the Foundation's current location at 28 Beechwood Avenue.