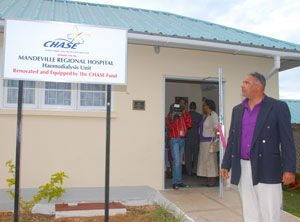 Adequate maintenance of dialysis machines, which is critical to the safe and cost-effective delivery of renal care, has consistently posed a challenge for the few treatment facilities which serve the growing number of patients at government hospitals island-wide.
Treatment costs – estimated at approximately J$1.2 million annually for each patient – represent a heavy financial burden. In 2008, the Kidney Support Foundation – a not-for-profit organization – collaborated with the National Health Fund (NHF) and the CHASE Fund to improve the service delivered by the Renal Unit at the Kingston Public Hospital. The partnership with the NHF facilitated the purchase of 15 new dialysis machines valued at a total US$425,000.
The CHASE Fund's US$30,000 per year contribution for maintenance of the machines over three years ensured the efficient operation of the units and also assured that the full value of this huge investment was realized. Preventive maintenance costs included the replacement of parts and labour for calibrations, as well as, the travel expenses of the foreign technicians who were contracted to work on the machines.